Čo je jadro?
Jadrom ľudského tela môžeme nazvať všetky svaly a svalové skupiny nachádzajúce sa v trupe, primárne pozostávajúce z:
Rectus abdominis (priamy brušný sval)
Vnútorné a vonkajšie šikmé brušné svaly (obliques)
Transverse abdominis
Vzpriamovače chrbtice
Hlboké flexory, abduktory a adduktory bedra
Svaly pánvového dna
Bránica
multifidus
Dokonca by som sa neobával povedať, že sem patria aj všetky svaly a svalové skupiny prechádzajúce a krížiace sa s týmito svalmi, ako napríklad široký sval chrbta. Hlavnou funkciou jadra je stabilizácia hrudníka a panvy počas dynamických pohybov. Tiež sa môže označiť ako hlboký stabilizačný systém.
Výstuž počas dýchania
Výstuž jadra je o kontrole a primeranej tvorbe tlaku v brušnej dutine. Tu zohráva významnú úlohu bránica. Bránica je plochý kopulovitý sval, pripojený k dolnej apretúre hrudníka, deliaci trup na hrudnú a brušnú dutinu. Pre účely tohto článku priraďme bránici 3 funkcie:
dýchanie
stabilizácia
defekácia (v tomto článku ju nebudeme rozoberať)
Pre silový výkon je integrácia dýchacej a stabilizačnej funkcie kľúčová. Pri vykonaní každého pohybu musí byť telo stabilné a kalibrované, každý pohyb je sprevádzaný nádychom a výdychom. Funkcia bránice je často krát vysoko opovrhnutá. Dýchanie, konkrétne nádych, je fundamentálna vec pri akomkoľvek dynamickom pohybe, zakotvené na úrovni bazálneho metabolizmu, tj. dýchanie je automatizované. Pri nádychu sa hodnota vnútro brušného tlaku (IAP) zvyšuje, bránica klesá, brušná dutina s týmto rozťahuje nielen predozadne ale aj do strán. Dochádza k zvýšeniu prekrvenia organizmu, hlavne viscerálnych orgánov (pri expíriu nasávajú vyplavenú krv), napruženiu a natiahnutiu svalov hlbokého stabilizačného systému, bez vertikálneho zaťaženia – umožňujúc ´posilnenie´ svalov aj v rovine horizontálnej (dôležité pre ľudí s bolesťami chrbtice), a ich následnému sťahu. To zlepšuje kontrabilitu, uvoľňuje chrbticu (pôsobí trakčne) a dá sa povedať, že správne bránicové dýchanie pôsobí relaxačne (vnútorné orgány).  Je nutné podotknúť, že ak trpíte akoukoľvek dysfunkciou dýchania, je prvoradé vysporiadať sa s týmto problémom. V opačnom prípade sa budú dôsledky neustále objavovať, okúsite úpadok sily, inhibuje sa bránicové dýchanie a nesprávna kompresia tela má dopad na posturálne zmeny – zmeny postoja tela, čo môže mať za následok ďalšie zdravotné ťažkosti. Nemôžete mať správnu výstuž jadra bez správneho posturálneho držania.
Výstuž = opačné sily pôsobiace proti sebe za vytvárania stabilizačnej funkcie. Tlak, vyvíjaný na orgány bránicou, svalmi panvového dna a brušnou stenou, vedie k zvýšeniu vnútrobrušného tlaku. Počiatočná pozícia bránice a svalov panvového dna je dôležitá, keďže kriticky ovplyvňuje kvalitu stabilizácie.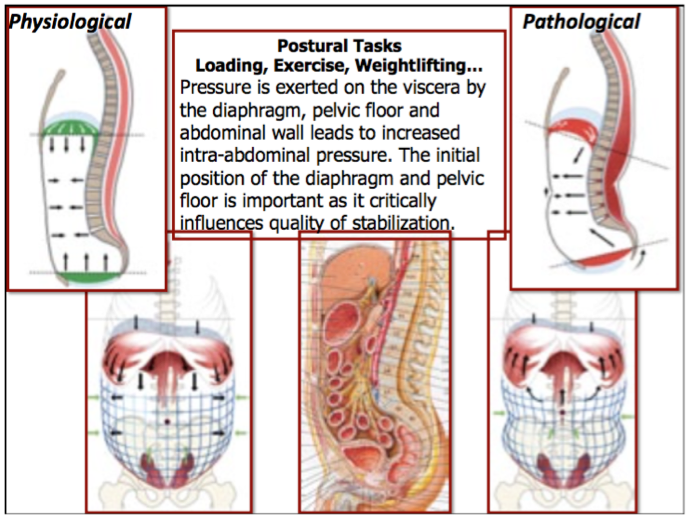 Príklad brušnej hydrauliky: Predstavte si stred nášho tela ako hydraulický valec. Steny valca tvorí plocha svalovina brucha, bedier a brušná strana chrbtice. Spodným okrajom sú svaly panvového dna, vnútorná stena panvy a najspodnejšia časť brucha. Horný okraj je tvorený bránicou. Tieto okraje si prosím predstavte ako piesty, horný je dynamickejší ako dolný (kvôli pohyblivosti bránice). Tento mechanizmus umožňuje preniesť záťaž z oblasti hrudníka priamo na panvu, čím sa vyhýba preťaženiu driekovej chrbtice.
Ak svaly panvového dna a bránica nepracujú priamo oproti sebe, energia uniká smerom dopredu a dozadu. Únik energie sa všeobecne deje ak má atlét zdvihnutý hrudník alebo predný predsun panvy. To vytvára kompromitovanú pozíciu driekovej chrbtice počas liftu.
Prečo je posturálne zlepšenie dôležité?
Redukuje úbytok unikajúcej energie a sily
Prevencia zranenia z pohľadu vzájomnej inhibície
Zlepšuje motoneurálne dráhy
Proaktívne voči zraneniu miechy
Zlepšuje priechod pohybu
Správna postúra je charakterizovaná svalovými dysbalanciami, svalmi, ktoré sú oslabené a svalmi, ktoré sú skrátené. S touto problematikou sa môžeme stretnúť v prácach prof. Jandu – horný a dolný skrížený syndróm, viacvrstvový syndróm.
Pri viacvrstvovom syndróme sa striedajú vrstvy skrátených a oslabených svalov na dorzálnej (zadnej) aj ventrálnej (prednej) strane tela. Pre správne vytváranie tlaku musí byť bránica v priamej opozícii svalom panvového dna (pri 30 stupňovom fyziologickom predkyve panvy). Tieto syndrómy tuto rovnováhu porušujú, čím destabilizujú celý organizmus.
Príklad:  Dolný skrížený syndróm: Atlét s extendovanou postúrou (v predĺžení) trpí výraznou hyperlodrózou driekovej chrbtice, predsunom panvy a rozšíreným spodných rebier. Pri destabilizácii je tlak nahromadený pri nádychu rozmiestnení nerovno, teda je preťažovaná brušná stena a potláčaná je funkcia spinálnych vzpriamovačov (vzpriamovačov chrbta), je nestabilný hlboký stabilizačný systém, energia uniká smerom dopredu v brušnej dutine a vzad v oblasti hrudnej dutiny.
Týmto chceme len povedať, že možno technika akou dýchate je dobrá, ale vaše telo nie je schopné správnej fyziologickej funkcie. Neschopnosť správnej funkcie znamená neschopnosť dosiahnuť najlepší výsledok.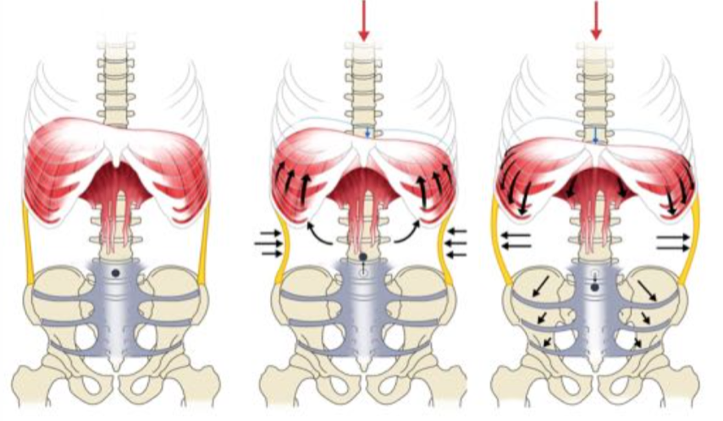 (obr.3 ukazuje pozíciu správneho dýchania 1.normálne podmienky, relaxovana brušná dutina, 2. príklad nesprávnej výstuže 3. príklad správnej výstuže)
Ako teda dosiahnuť správnu výstuž jadra?
Ako sme už spomínali, stabilizačná a respiračná funkcia bránice je kľúčová. O stabilizačnej funkcii a jej súvisom so správnym držaním tela sme si už niečo povedali. Ale čo dýchanie? Najskôr si treba uvedomiť rolu dýchania pri vytváraní tlaku:
Vzduch ako taký nie je stabilizačná sila
Vyhýbajte sa vdychovaniu len do prednej brušnej dutiny. Správne dýchanie znamená zapojenie celej brušnej dutiny
Predstavte si správne dýchanie ako loptu, ktorú stlačíte a tlak sa vytláča do všetkých smerov
Tlak vytvorený bránicou a panvovým dnom si musí navzájom odporovať
Mimoriadne veľa ľudí robí chybu pri druhom bode a nadychujú sa len do prednej časti brušnej dutiny, tlačiac na štruktúry priameho brušného svalu. To môže spôsobiť narušenie väzív na prednej brušnej stene, spôsobiac zranenie. Tlak, ktorý je vygenerovaný medzi bránicou a svalmi panvového dna je prenášaný rovnomerne smerom von a musí byť odporovaný. Vonkajšia vrstva brušnej dutiny odporuje tomuto tlaku a vygenerovanej sile.
Množstvo ľudí má bolesti pri ohnutí sa v driekovej oblasti, hoc nemajú výrazne zranenie alebo patológiu podporujúcu jeho stav. Je to práve vďaka nesprávnemu dýchaniu a nesprávnemu využitiu brušnej hydrauliky (príklad vyššie) na chrbticu a preťažovaní spodného chrbta. Týmto princípom sa dá pomôcť tisíckam ľudí, ktorí potrebujú len využívať svoje telo ekonomickejšie.
Teraz sa dostávame k poslednému bodu. Dýchanie a výstuž jadra nie je to isté. Nedá sa povedať, že dýchanie = výstuž. Pozrime sa na to takto; máme sériu o 20tich opakovaniach na drepe. S postupne sa zvyšujúcou hladinou vyčerpania klesá naša schopnosť zadržiavať dych, správne podporiť jadro výstužou a zvyšuje sa dopyt po kyslíku. Rýchle dýchanie spôsobí zrýchlenú cirkuláciu krvi, zrýchlení pohyb bránice a svalovej kontrakcie bránice, čo nám, ak je vašim cieľom zdvihnúť čo najviac kíl, v skutočnosti bráni dosiahnuť tento cieľ.
Dýchanie = pohyb, Výstuž jadra = statickosť.