Tento článok bude odborným článkom.
Ľudské telo obsahuje zhruba 660 svalov, tvorených prevažne vodou (až 70%) a bielkovinami. Sval je tvorený svalovými vláknami navzájom pospájanými väzivom do snopcov. Svalové vlákno je základnou stavebnou jednotkou priečne pruhovaného svalstva (svalstva kostrového, t.j. biceps, triceps, pŕsne svalstvo,…). Každé svalové vlákno je zložené zo sarkolemy (sval. membrána), vnútornej cytoplazmy, bunkových organel (mitochondrií, ribozómov, sarkoplasmického retikula,…) a myofibrilov vyplňujúcich cytoplazmu. Myofibrily sú dĺžkou súhlasné svalovému vláknu. Skladajú sa z vláknitých bielkovín (filamentov) – aktínu a myosínu. Spájajú sa do sarkomer (reťazovitý úsek myofibrilov). V pokojovom štádiu sú filamenty myosínu obklopené filamentami aktínu a majú slabú kontraktabilitu (schopnosť zmrštiť sa). Počas svalovej kontrakcie dochádza k prepojeniu aktínu s  myozínom za pomoci myozínových hláv na myozínových filamentoch. Myofilamenty sú ukotvené na Z-líniach, tie sa upevňujú na sarkolemu. Nervový impulz spôsobí vypudenie iónov vápnika zo sarkoplasmického retikula (organela obklopujúca myofibrily), čo uvoľní "troponínovú bariéru" – troponín je bielkovina taktiež prítomná vo svale – a sprístupní prepojenie medzi filamentami. Myozinové hlavy sa naviažu na aktín a vťahujú celý filament myozínu medzi filament aktínu. Sval je inervovaný cez motorickú platničku na svale. Impulz vychádza z motoneurónov (neuron, ktorého telo sa nachádza v mieche, jeho chvostovitý výbežok z nej vystupuje a priamo alebo nepriamo ovplyvňuje výstupný orgán, sval alebo aj žlazu). Jeden motoneurón môže ovládať aj stovky svalových vlákien, čo vytvára samostatnú motorickú jednotku. Jednotlivé vlákna jednej motorickej jednotky sú zamiešané medzi vláknami iných motorických jednotiek, čo dodáva svalu lepšiu adaptabilitu na svalovú prácu.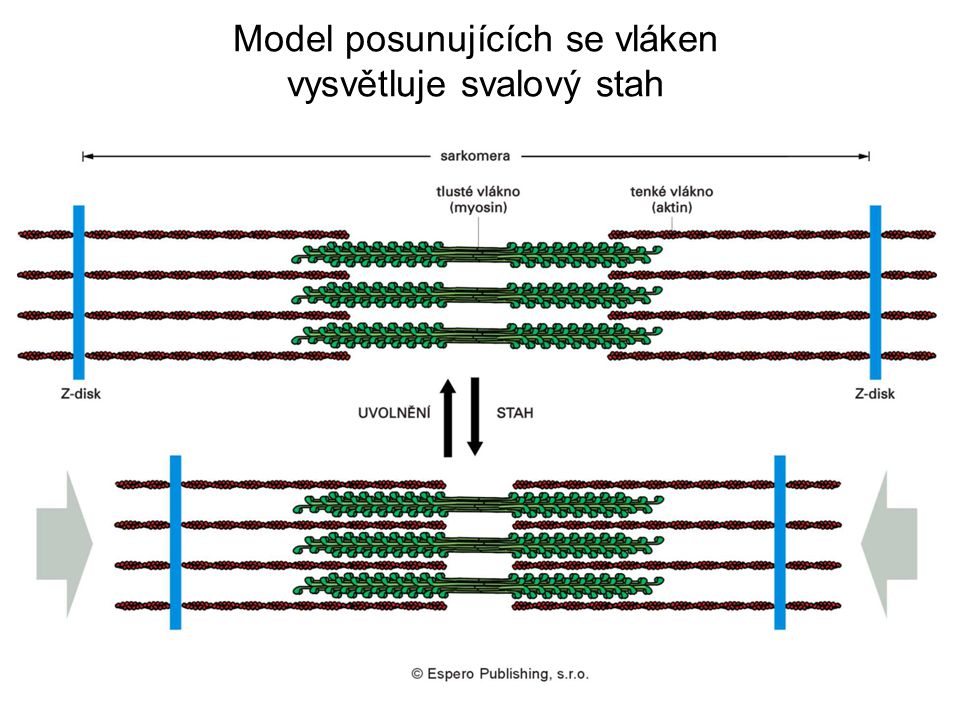 Energiu svalovej bunke dodáva adenozíntrifosfát (ATP). Na každý pohyb je nutné rozštiepiť hydrolýzou (reakciou s vodou) jednu molekulu ATP. Štiepením ATP vzniká adenozíndifosfát (ADP) a organický fosfór (P). Táto chemická reakcia vytvára energiu pre pohyb priečnych mostíkov v sarkomere. Priečne mostíky sa nachádzajú v rôznych variáciách (izoformách). Izoformy určujú vlastnosti a rýchlosť sťahu svalového vlákna.
Svalové vlákno je možno rozdeliť na 3 kategórie, základné typy: I, IIa, IIb (IIx). [1]
Vlákna typu I – pomalé oxidatívne vlákna
Vlákna typu I sú dominantné pri vytrvalostnej, aerobnej svalovej práci (za prítomnosti kyslíka). Napriek ich pomalému sťahu, tj. 70 – 140 milisekúnd, využívajú energiu získanú zo štiepenia ATP efektívnejšie a vyznačujú sa vysokou hustotou prekrvenia. Charakterizujú sa malým prierezom, dlhými sarkomerami, nízkym obsahom glykogénu (pohotovostný zdroj energie a zásobná forma glukózy), nízkym obsahom enzýmov zúčastňujúcich sa v anaerobných (glykolytických) reakciách, no vysokým obsahom aerobných (oxidatívnych) enzýmov a vysokým obsahom triglyceridov (zásobná forma tuku a hlavný zdroj energie pre vlákna typu I). Taktiež obsahujú veľké množstvo myoglobínu – proteínu transportujúceho kyslík z kapilár do mitochondrií (organela účastná predovšetkým na získavanie energie). Podiel mitochondrií je tiež velmi vysoký.
Vlákna typu IIa – oxidatívno-glykolytické
Vlákna typu IIa môžeme označiť ako vytrvalostno-dynamické. Vyznačujú sa veľkým prierezom, kratšími sarkomerami, menej hustým cievnym zásobeným, menším podielom myoglobínu a mitochondrií, veľkými zásobami glykogénu a kreatínofosfátu, málo triacylglycerolu (triglycerid) a strednou rýchlosťou sťahu, tj. 50-100 milisekúnd. Aktivita aerobných a anaerobných (oxidatívnych a glykolytických) enzýmov je zrovnateľne vysoká, teda vlákna typu IIa vytvárajú akýsi prechod medzi vláknami typu I a vláknami typu IIb s aerobným aj anaerobným potenciálom.
Vlákna typu IIb – glykolytické
Vlákno tohto typu majú najväčší glykolytický potenciál (anaerobný alebo, pre naše účely, dynamický). Obsahujú však najnižší počet mitochondrií a myoglobínu a slabé cievne prekrvenie. Priečny prierez vláknom je podstatne menší ako u vlákien typu IIa, majú veľké zásoby kreatínofosfátu a glykogénu, no malé zastúpenie triacylglycerolu (tryglycerid – zásobáreň tuku). Ich sťah je 4 krát rýchlejší ako u vlákien typu I a 2 krát rýchlejší ako u vlákien typu IIa, tj. 20 – 50 milisekúnd. Aktivita glykolytických enzýmov (anaerobných – bez prítomnosti kyslíka) je vysoka, avšak oxidatívnych (aerobných –za prítomnosti kyslíka) je nízka.
Vlákna typu I a IIa sú označované ako vlákna červené (červenú farbu im dodáva bohatšie prekrvenie a vysoký výskyt myoglobínu). Vlákna typu IIb sú označované ako vlákna biele (opak vlákien I a IIa).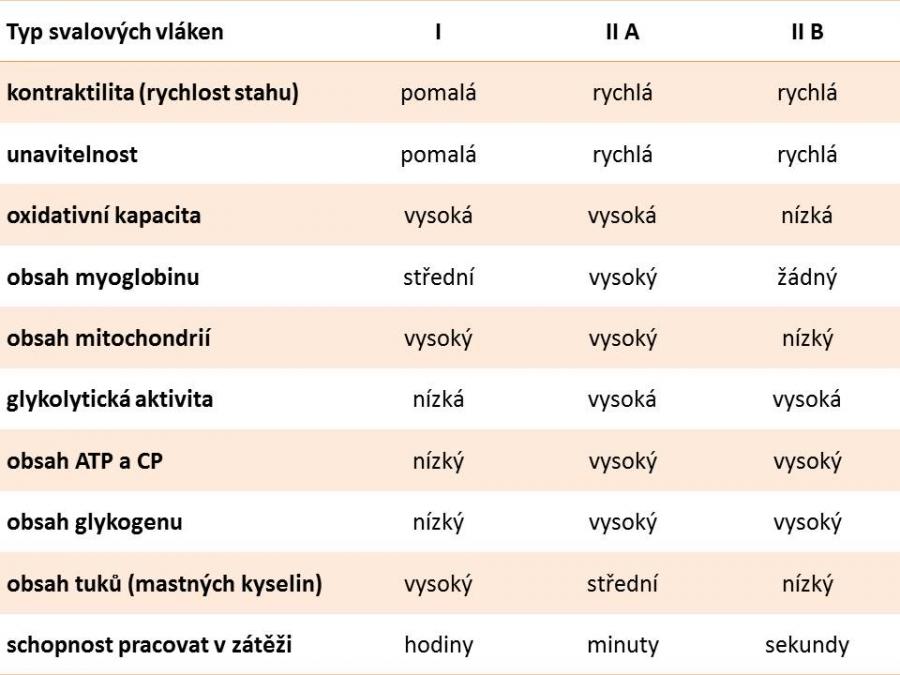 Schéma jednotlivých charakteristík svalových vlákien
Svalový test: ako zistiť, ktoré vlákna sú v našom tele dominantné? Pri silovom tréningu si skúsime maximálnu váhu, akú sme schopní zdvihnúť a potom prejdeme na maximálny počet opakovaní s 80timi percentami danej váhy. Ak vykonáme menej ako 7-8 opakovaní, v prevahe sú vlákna typu II, ak to bude viac, prevažujú vlákna typu I. Samozrejme, treba dbať na kvalitu prevedenia opakovaní!
Ako väčšinu vecí v našom tele, aj prierez a metabolizmus svalových vlákien sa dá ovplyvniť, modifikovať, športovým tréningom. Samozrejme, táto modifikácia je len čiastočná a nedá sa ovplyvniť úplne. Viditeľné je to pri vláknach typu IIb, ktoré sa tiež vyznačujú svojou plasticitou – dokážu konvertovať na vlákna typu IIa, teda sa úplne prispôsobiť intenzite záťaže (hmotnosti, odolnosti). Je to vďaka ich nedostatočnému využitiu v bežnom živote a zastúpení niektorých organel (ako mitochondrie), čo pri anabolických procesoch môže predstavovať problém pri zlepšovaní výkonu. Pri tejto transformácií musí byť prítomná aerobná zložka ako primárny podnet.
Pomer rýchlych a pomalých svalových vlákien je u väčšiny svalov 50:50. Svaly typu IIb z tejto položky zastávajú v priemere 15%. Treba však podotknúť, že vlákna typu II zaberajú viac ako polovicu celkového priemeru svalu (niekde sa udáva rozpätie medzi 15 až 85 percent). Vyššie percento rýchlych svalových vlákien je spojené s vyššou cirkuláciou telesného testosterónu.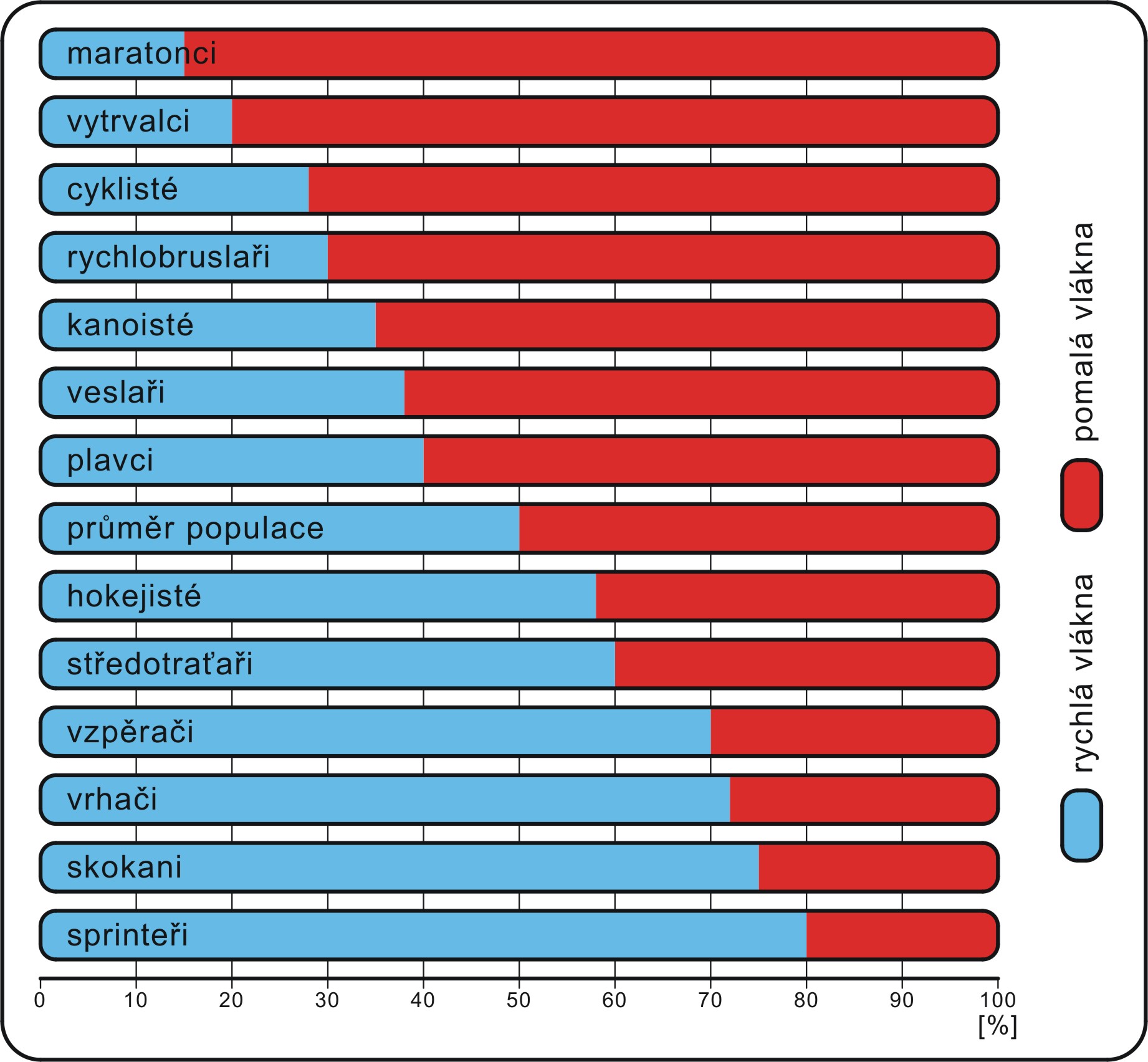 Porovnanie sústredenia svalových vlákien u jednotlivých športov
[1] V športovej literatúre sa stretávame s rozdeleným na 7 základných typov (I, Ic, IIc, IIac, IIa, IIab, IIb)